You have found the most comprehensive commercial loan training DVD course in the business.  If you're serious about honing your skills, take a hard look at this as it is legitimate.  This is not a theoretical discussion of the industry.  This is a hand's on, "down in dirty" course on how to originate commercial mortgages, from the initial call to closing.   You have to know what you are doing if you expect to succeed.  Invest in your career today, get the training you need.
See sample of course: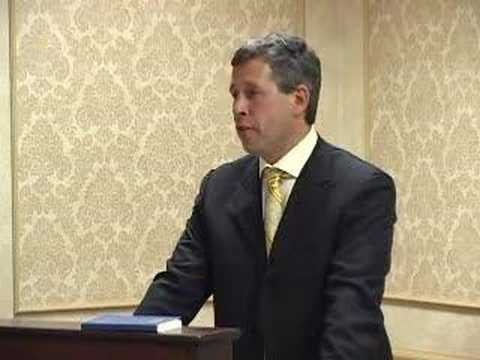 Note from Jeff Rauth, owner of this website and Commercial Finance Advisors:
"This DVD course was created by a Commercial Mortgage Backed Security (CMBS) corespondent lender out of New Jersey.  They focused on small balance loans from $1,000,000 to $5,000,000.  Because most of their transactions were investment property loans the course material is more focused on investment property lending.  But even if you're more interested in owner user deals the course is still relevant and you'll get a lot out of it.  One of my personal favorite aspects of it is that you get the attitude and perspective of commercial lending from a seasoned "deal guy" rather than just the dry aspects of underwriting from someone that was never on the sales side of the business.  This alone is very valuable and rare as most commercial loan training is strictly focused on underwriting.  I recommend the course for beginners as well as more intermediate originators.  It's well worth the price."
This DVD course is designed to provide a comprehensive overview of the commercial mortgage business.  It covers:the participants, the keys to evaluating a potential loan requests, choosing proper lenders and their differing application processes, as well as an examination of property types and more.
Section #1: Summary of a commercial real estate deal: The Players.
The Borrower:
1.  Establishing a projects' viability.
2.  Establishing a projects' feasibility.
3.  Understanding the market and the markets participants.
4.  Understanding the requirements of the project going forward.
The Mortgage Broker/Banker:
1.  What they are, what they do and how they work together.
2.  How they each find clients/borrowers.
The Lender:
1.  Determining proper funding sources to engage (i.e., conduit vs. portfolio, bridge vs. conventional, etc.)
2.  Understanding the risk tolerance of different lenders.
3.  Organizing the loan application and determining what constitutes a full loan package for a specific lender. In other words, knowing what they will want to know.
4.  Overview of managing the loan process.
Section #2: Analyzing who invests, and their investment evaluation process.
Identifying the main market participants; including individuals, local builders, small business owners all the way to banks and pension funds.
Examining the nuts and bolts of making the investment decision:
1.  What are the return expectations/needs for the investor?
2.  What is the risk tolerance of the investor?
3.  What is the investment time frame desired?
4.  What is the investor's level of expertise?
Determining how to put a price or value on a property or project.  How to do it the correct way in order to calculate the viability of an investment to a specific investor.
Discussion of the various types of projects and properties:
1.  Land acquisition and construction
2.  Income producing properties such as mixed-use, multifamily, industrial, retail and warehouse.
Section #3: The investment is located, a suitable lender is identified, now what?
Examining the loan process from 1st contact, to final decision to closing.
1.  Who are the players in the process, and how the process can differ depending on the type of loan desired (i.e., conventional loan vs. bridge loan).
2.  Determining the paperwork that will or may be required from the borrower for each loan type.
Discussion of the importance of a "perfect" application submission the 1st time.
Discussion of how the refinancing application process may differ from that of a new money loan.
Section #4: Knowing Your Project or Property Inside and Out, and Experience Counts.
Discussion of what a borrower and investor must know about a prospective project or property:
1.  Construction project checklist
2.  Land acquisition checklist
Discussion of clear and concise exit strategies, value of pre-sales or pre-leasing to a lender.
Discussion of cross collateralization.
Discussion of line item budgets for hard costs.
Discussion of the plans and approvals process.
Discussion of the need for investor equity in the project.
Section #5: Examination of Loan Documents and the Elements that Comprise Mortgages and Promissory Notes.
Discussion of content, and who they are designed to protect.
Discussion of environmental issues, with a look at brown-field investments.
Section #6: The Loan is Funded, What Happens Next?
A look at the loan servicing function:
1.  The checklist of servicing components
2.  Servicing in a conduit vs. a portfolio loan scenario
Examination of a servicers role in a default or bankruptcy filing
Section #7: The Commercial Real Estate Market Focus and Tools for the 21st Century, or at Least the Next Decade.
Discussion of how the Internet has streamlined parts of the loan process.
Discussion of the proliferation of mortgage fraud, how to try and recognize and prevent it from happening to you.
Discussion of the importance of choosing your lenders carefully, and how the time spent, effort made and credibility earned with clients is hard to retrieve in a loan process gone bad.
Section #8: Case study – The analysis in real-time of various property types from the ID, to the valuation to the selection of the proper lender
How to Order
Invest in your career today.  Increase your knowledge base and learn from the pros.  Course is 5 and a half hours long, with 3 DVD's, and comes with a 108 page eManual (In digital format) and loan analysis spread sheet.  Normally offered at $295.  Now only $149.95 which includes shipping.  That's a $145 savings…